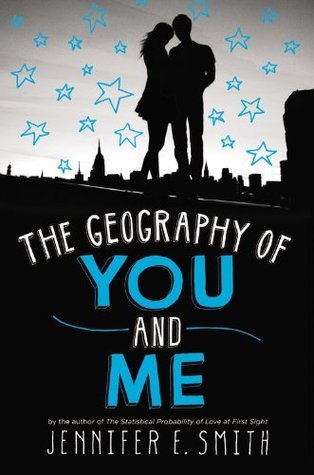 – Jennifer E. Smith
Lucy and Owen meet somewhere between the tenth and eleventh floors of a New York City apartment building, on an elevator rendered useless by a citywide blackout. After they're rescued, they spend a single night together, wandering the darkened streets and marveling at the rare appearance of stars above Manhattan. But once the power is restored, so is reality. Lucy soon moves to Edinburgh with her parents, while Owen heads out west with his father.
Now when I spotted this one on Bookbridgr, I just had to get it! I haven't read a good young adult book in a while, and I figured this would hit the spot. I wasn't disappointed. I've never read any of Smith's books previously, but I may just have to check them out now!
Lucy and Owen are both likeable in my opinion. They meet in New York, but soon enough they're both travelling in different parts of the world, hundreds of miles away from each other. The story is told from both perspectives, and I feel like I've been saying this a lot recently, but I usually dislike this. Here, it definitely worked. I wanted to see how each person was getting on, so the dual perspective was a plus. I also enjoyed the writing. It felt sort of young and free, and definitely easy to read.
Lucy is finally getting to explore Europe, as her parents have done throughout her childhood. She's trying to deal with moving to a new country, fitting in at school and getting used to the new cultures that she's just been thrown into. Owen and his father are trying to move on from his mother's death. Travelling the US, they try to find a place to settle. With two different past stories, the book has a little more depth than just the usual teenage romance. As well as dealing with their own troubles, Lucy and Owen are attempting to stay in contact. Long distance relationships aren't always easy (I should know, being in one!) but this shows that if you care, you can make it work.
I finished the book whilst on my train back up to Carlisle (university) and I was struggling towards the end. I just got all emotional! This book reminds me of John Green, though 10x better. I enjoyed his books, but I don't believe they are worth the hype. This book would be worth the hype.
*Thank you to Bookbridgr and Headline for the chance to review this book!