– Claire McGowan
I'm reviewing these together because I read them both in quick succession, and it just makes sense to put them together. Now I was given the opportunity to receive and review The Dead Ground* by Headline and Bookbridgr. When I discovered that it was a sequel to The Lost, I just had to buy it and read them in order of course! I have to say, I am glad that I did buy The Lost!
The series follows Paula Maguire, a forensic psychologist, who has been living and working in London, helping the police with missing persons cases. In this series, we see her return to Northern Ireland, her homeland, to help the team of police and detectives from both sides of Ireland.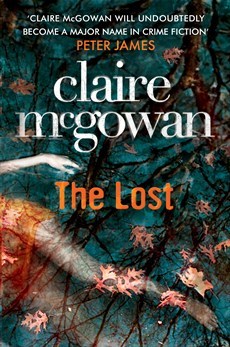 – The Lost
When two teenage girls go missing along the Irish border, forensic psychologist Paula Maguire has to return to the hometown she left years before. Swirling with rumour and secrets, the town is gripped by fear of a serial killer. But the truth could be even darker.
Two girls have gone missing in Ballyterrin, and Paula is drafted in to help uncover the mystery. Her job is to find out about the girls, and figure out any connections between the two disappearances. Paula has avoided her hometown for years, not wanting to bring up her dark past. She has her own reasons to be working with the missing persons unit. The main reason for coming back was to help her father out. Once back in town, people from Paula's past start to appear, and although unwelcome at first, they soon become a great deal of help to her. I found Paula to be a very strong character, and definitely likeable. She knows what she's talking about it this kind of situation, having worked on many teenage missing persons cases. If Paula has a hunch, she will work with that, even if it is against orders and means a little sneaking around! Sometimes, finding the lost is more important than anything else.
The story very much shows the tensions between the police and detectives from across the border, being set after the troubles in Northern Ireland. With the team being made up of mixed religions due to the cases occurring around the border, it wasn't always easy and friendly. I thought this added even more realism to the story because it shows people with differences coming together and, despite tensions still rising, they get the jobs done.
Paula as a character has tons of depth. As you're reading, you can feel the emotions that she's feeling, and the struggles between certain decisions. The Lost was a brilliant first look into the life of Paula Maguire.
– The Dead Ground
A stolen baby. A murdered woman. A decades-old atrocity. Something connects them all.
Now, The Dead Ground, where do I start? The Lost was good… The Dead Ground was brilliant. Paula is still in Ballyterrin, despite not originally planning on staying for long. This book focuses on pregnancy, babies and abortions. The disagreements between catholic and protestant about abortions plays a big part in the story, and though disturbing at times, I thought the book was great. Babies are going missing, and Paula needs to find out just who is taking them.
Crime books are popular, and it's hard to find a completely unique story line. The stories in this series have probably been done countless times before, but Claire McGowan writes with such detail, insight and depth that, throughout the books, I never felt like I had read something similar before. Almost every chapter provided some form of suspense or mystery – I was hooked all the way through.
One thing that I really liked about these books is that it felt real. No investigation was perfect. I can't say I know what it is like in real life, but seeing the process build up and break down again and again, from bad leads or hunches that turned out to be wrong, just felt so much more realistic than the cases being solved quickly.
Definitely the best crime/mystery that I have read in a while, and I wholeheartedly recommend! Now, when's the third coming out? 😉